In Remembrance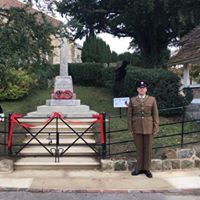 Birling War Memorial Names:
Memorial: Birling (WMR 145), Birling, Kent
Tommy Pinkham was the Squadron Leader of the Royal Air Force No. 19 Fighter Squadron, the youngest squadron leader in the RAF.
According to the Fighter Command Combat Report dated 5 September 1940, eleven members of the No. 19 Fighter Squadron, lead by Squadron Leader Pinkham, took off from RAF Duxford at 09:47 hours to patrol Hornchurch, an area of east London near the Thames Estuary. Forty Luftwaffe Dornier 215 bombers escorted by 40 Messerschmitt 109 fighters were spotted approaching from the west. At 10:15 hours, Tommy and five others attacked the bombers. The other five aircraft attacked the Luftwaffe fighters. Squadron Leader Pinkham was last seen engaging three Dornier 215 bombers and was a casualty.
Tommy's Spitfire Mk1 crashed in the wood and a memorial is maintained in the spot to remember his endeavours.